Musea Maaseik are a group of recognised regional museums, that play an active role in informing people about the history of northeastern Belgian Limburg, particularly the valleys of the river Meuse and the Bosbeek. As a major promoter and protector of the cultural heritage of the Limburg region, our core responsibility is to maintain and manage its often vulnerable assets and safeguard them for future generations. To this end, the Musea Maaseik are committed to creating high-quality, professionally curated collections, and to preserving, researching and exhibiting a large variety of items that are part of our pharmaceutical, archaeological, religious and artistic heritage.
Image: Restorer and conservator Stijn Lenaerts of the International Platform for Art Research & Conservation (IPARC) conducts an analysis of reliquaries from the Treasury of Saint Catherine's Church.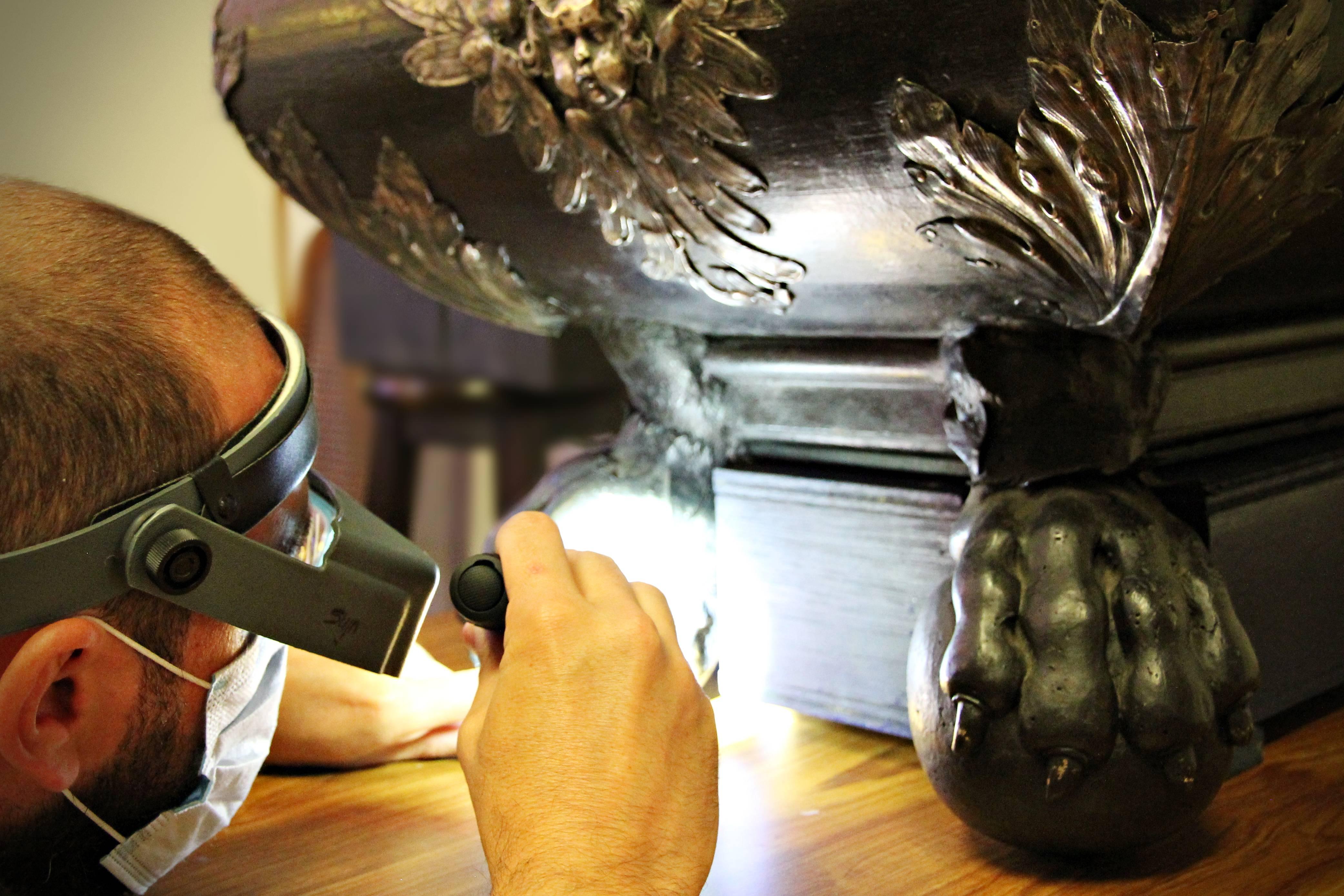 Collections in the spotlight ...
Musea Maaseik take an academic and professional approach to their collections, and to this end they collaborate with a range of partners to widen their knowledge and deepen their expertise. This also involves long-term collaborations at the local, regional and European levels and around the world. The museums work actively and creatively to collect and collate information and share it with others.
On an ongoing basis, the permanent exhibitions and themes are supplemented through further research and presentations of various kinds, such as temporary exhibitions, workshops, virtual initiatives, lectures and national heritage events. All of these activities afford opportunities to shine a new light on specific aspects of a collection, or even entire collections. The permanent and temporary collections and the various activities all take place on a small scale and with an emphasis on authenticity, an approach that sets the Musea Maaseik apart from other heritage institutes in the region.
Image: Ms Grondelaers donates a Merovingian pot. This noteworthy pot was discovered by chance in the 1940s, near Warredal in the town of Neeroeteren. Its provenance was an early medieval (6th-7th century) grave.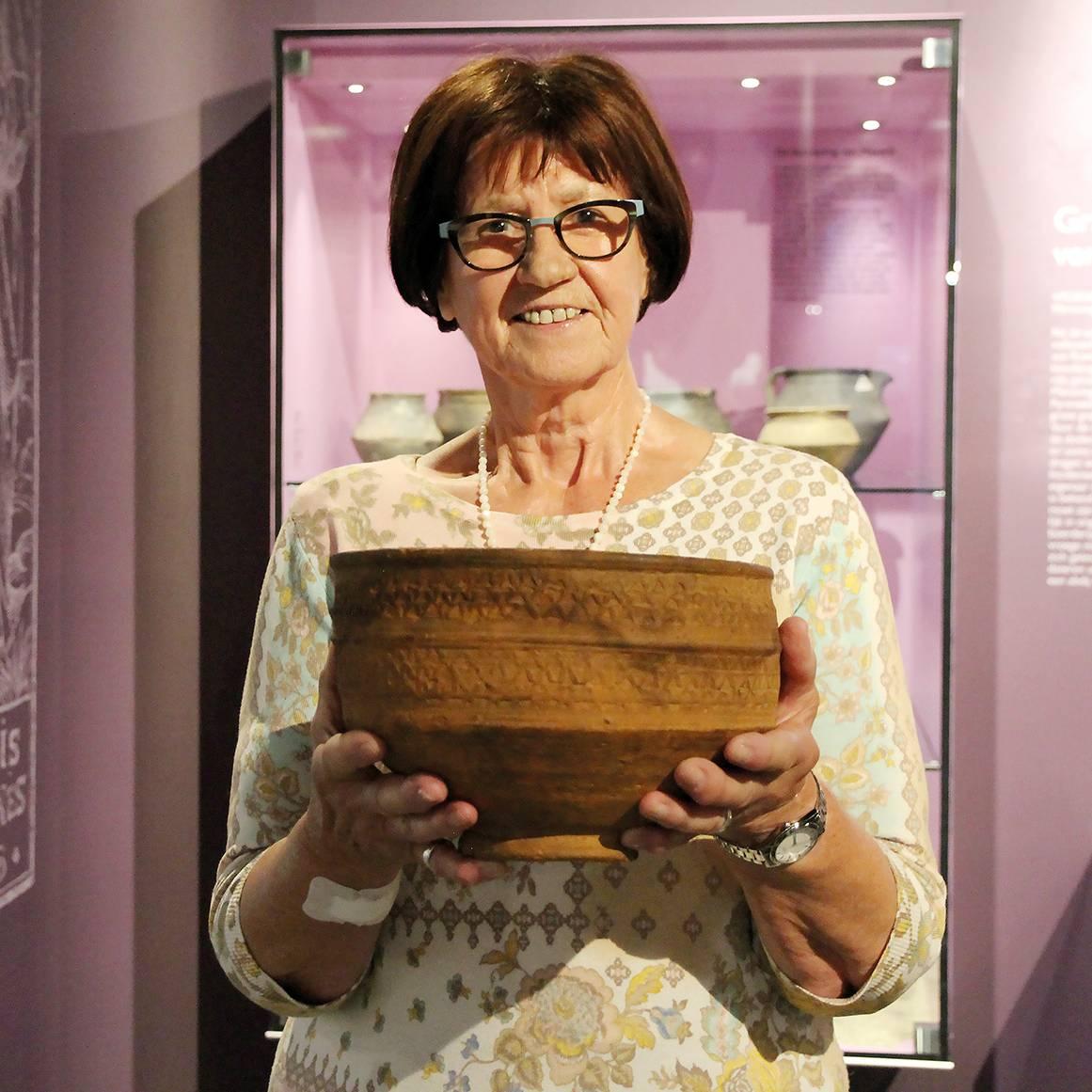 ... and a focus on our visitors!
The Musea Maaseik are places for people to relax and have fun, and to enjoy a low-key yet captivating and unforgettable museum experience. Information is presented through storytelling and interactive modules that make it understandable and easy to take in. The Musea Maaseik have adopted this approach deliberately with the aim of making our regional heritage accessible and interesting for all kinds of visitors.

As a small-scale, regionally oriented organisation, the Musea Maaseik offer visitors an opportunity to discover their unique collections in a setting that feels gentle, intimate and relaxing. As much as possible, we aim to make each visitor feel personally welcome by creating an atmosphere that is friendly and customer-focused. Transparency is part of this. The Musea Maaseik are open to everyone, and they do their best to communicate clearly. Through participation and co-creation, the rich heritage of the region is made available to a diverse audience for the purposes of study, education and enjoyment. In this way, the museums strive to bridge the gap between visitors and the museum's staff and experts.

Finally, Musea Maaseik are committed to being a creative, inspiring educational setting for both schools and individual visitors. Our aim is not to simply lay out an array of information about the past, but to encourage people to develop their own ideas. In this way, we hope that a visit to the museum will be an experience that will spark new insights and ways of thinking about history, and inspire visitors of all ages and backgrounds to discover fresh ideas and perspectives.